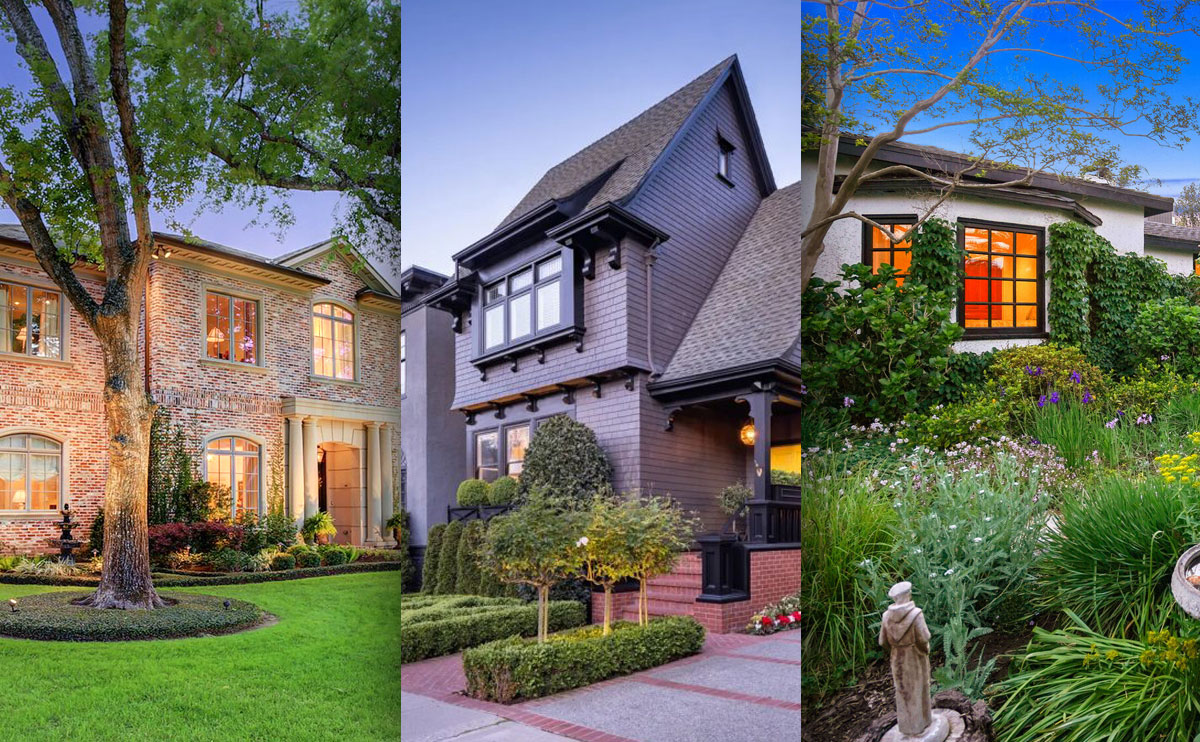 We feature splendid examples of homes that strike that much sought delicate balance between urban comfort and suburban tranquility. The lush green environment around these homes from Southern California to a historic place in the Hamptons offers a verdant escape within the city. 
Properties that Bring You Closer to Nature
Classy San Francisco Victorian Residence
San Francisco, California
The indoor and outdoor features of this impressive Victorian residence in the quiet Jordan Park neighborhood are awesome. The home has five bedrooms and suitably laid out living and entertaining spaces filled with light, color, and exquisite Victorian period details. A bright green hue from indoor plants dominates many rooms of the home. A captivating vintage aesthetic characterizes the front yard with its meticulously manicured hedges, parterre, flowers, and trees. In the lush backyard are a lounging pergola and a built-in grilling area.       
Enchanting Woodbridge Park Home
Studio City, California
This fascinating four-bedroom home is located in Woodbridge Park, one of L.A.'s most sought-after neighborhoods. Its vast gardens threaded with stone paths have been professionally designed. Its interiors exude casual elegance with its theme of neutral hues and maximum use of natural light. They have been laid out with relaxed living and entertaining in mind. French doors lead to the lush green that covers the lawn. A swimming pool is surrounded by tall flowering vines, colorful flowers, and fruit trees. Tall green hedges along the grounds shroud the enchanting property.
Watermill Estate, Landmark & Modern Sophistication
Water Mill, New York
South of the highway and close to Mecox Bay is an estate where history and modern sophistication meet. The property consists of a landmark home built by one of Hampton's founding families and an eight-bedroom residence. The former is widely regarded as the oldest home in Water Mill. The 1.56-acre ground where the property is located is fully landscaped. It has a heated gunite pool, a pool house, and a stunning terrace of Turkish limestone surrounded by fresh grass that extends off toward acres of reserve land surrounding the estate.          
Stylish Tanglewood Residence
Tanglewood, Houston, Texas
This majestic five-bedroom residence is located in Tanglewood, one of Houston's most affluent and sought-after neighborhoods known for its rustic setting. Its interiors consist of 9,187 square feet and include a gallery, study room, media room, game room, and elevator. Keen attention to detail was put into pursuing the home's enduring style. The home lies at the center of an impeccable green lawn and is surrounded by a canopy of magnificent oak trees, which Tanglewood is famous for.    
Distinctive Lewis-Loughrey Estate
Encino, California
The Lewis-Loughrey estate is a unique modernist home designed by Donald G. Park, a renowned modern architect. The home consists of three dodecagons with a total area of 6,811 square feet. It features six bedrooms and a bath, all light-filled living spaces. Perched on an Encino hilltop, the compound offers an inspiring scenic view. A patio, refreshing pool, soothing spa, verdant lawn, impressive hedges, and imposing cypress trees provide a perfect oasis for relaxation.    
Las Vegas Property Management
We are a Las Vegas and Henderson property management company specializing in the sale and rent of Las Vegas luxury real estate and similar properties in other US states. Contact us to discover luxury homes for sale and rent such as the properties featured in this article.