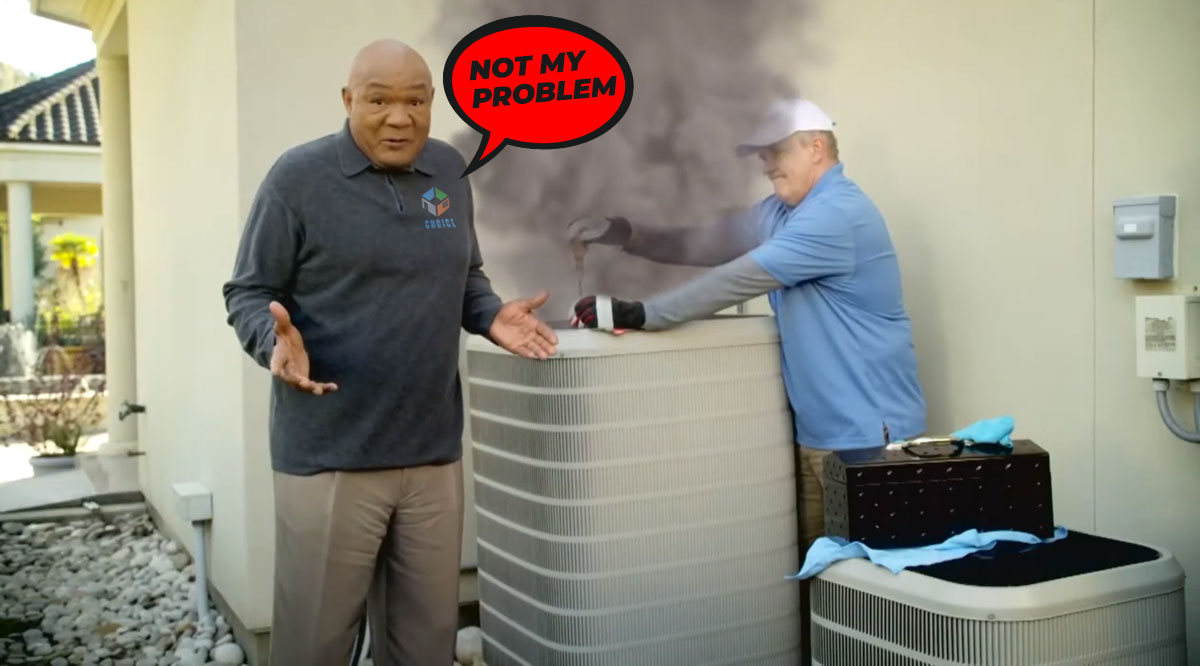 31 March 2022
Home Warranty Horror Story: The Scary Truth about Home Warranty Companies
The promise home warranty companies offer landlords and homeowners seems too good to pass up. Who wouldn't want a home warranty that will let you spend just around $550 for repairs and replacement costs of mechanical systems and appliances over 12 months? All that is required is supposedly an upfront fee of $75 for the home warranty to send out a contractor to assess the issue.
Horror Story Concerning Choice Home Warranty (CHW)
While not all home warranty companies are awful, most don't deliver on their commitment. A case in point is the recent claim we made with Choice Home Warranty for an aircon issue on behalf of our client landlord. Our Property Manager's experience with the home warranty company was anything but pleasant and productive.  
Our Property Manager was on hold for almost an hour before finally speaking with a representative.
After two days, the tenant did not hear from anyone to set up an appointment. We learned from the vendor they have not received any work order from CHW at that time. It took us 1.5 hours before getting through CHW who resent the work order.
The vendor arrived late the following day, completed a hard start on the aircon, and left. An hour later, the aircon stopped working. We tried to place a recall with CHW waiting on hold for 2 hours and opting for the callback but never received any until 10 pm.
After another two days, our Property Manager asked the vendor if they could go back but we were told we have to call CHW for a recall.
The Property Manager waited a total of 3 hours and 4 dropped calls before being able to get through CHW who placed a recall. We called the vendor to inform them a recall has been placed.
The vendor stated they don't need to come back but need CHW to approve a new compressor which will take 2 weeks to ship. The Property Manager had to inform CHW about this. The home warranty company hadn't received this information from the vendor.
CHW when asked the following day for an update confirmed it has been approved and will be in 2-3 weeks.    
10 days after, the vendor called our Property Manager informing them that the condensing unit they received won't work with the old evaporator so they need an additional $4,000. Our Property Manager relayed this information to the landlords who called CHW for an explanation.             
After one day, the CHW case manager emailed the landlord that the new condenser and indoor unit will cost $2,875 without further explanation of what was wrong. 
Over the next 10 days, our Property Manager and the landlord emailed, called, and left voicemails to request further explanation but never got one. When they asked for assistance from other representatives they were told they can only speak with the assigned case manager. 
The Property Manager followed up with the vendor for a further update from CHW. The vendor received approval for a new evaporator coil along with the condensing unit for $2,875, which the landlord had to pay and the vendor ordered.
The tenant waited a total of 37 days for their aircon to be repaired; the landlord spent $2, 875, on the cost of the repair, and an additional $25 a day for the portable aircon unit. The landlord also gave the tenant a credit towards their power bill for the portable aircon unit which caused their power bill to go up significantly. 
What Landlords Need to Know about Home Warranty Companies
Home Warranty companies aren't as attractive as they seem. They all look good until you read the fine print and have to use them. Before purchasing a home warranty, be sure to read the fine print and note the exclusions. You may find a lot of items and repair issues that the warranty doesn't cover. You may end up spending thousands of dollars for their repair or replacement and may even be pursuing legal actions to contest certain provisions of your home warranty.  
A home warranty gives homeowners a false sense of security. Exercise prudence and diligence when deciding to purchase the product. Shelter Realty doesn't generally recommend a home warranty but we would be glad to discuss home warranties with you and may recommend the home company that can help you. Call us at 702 367 2323.