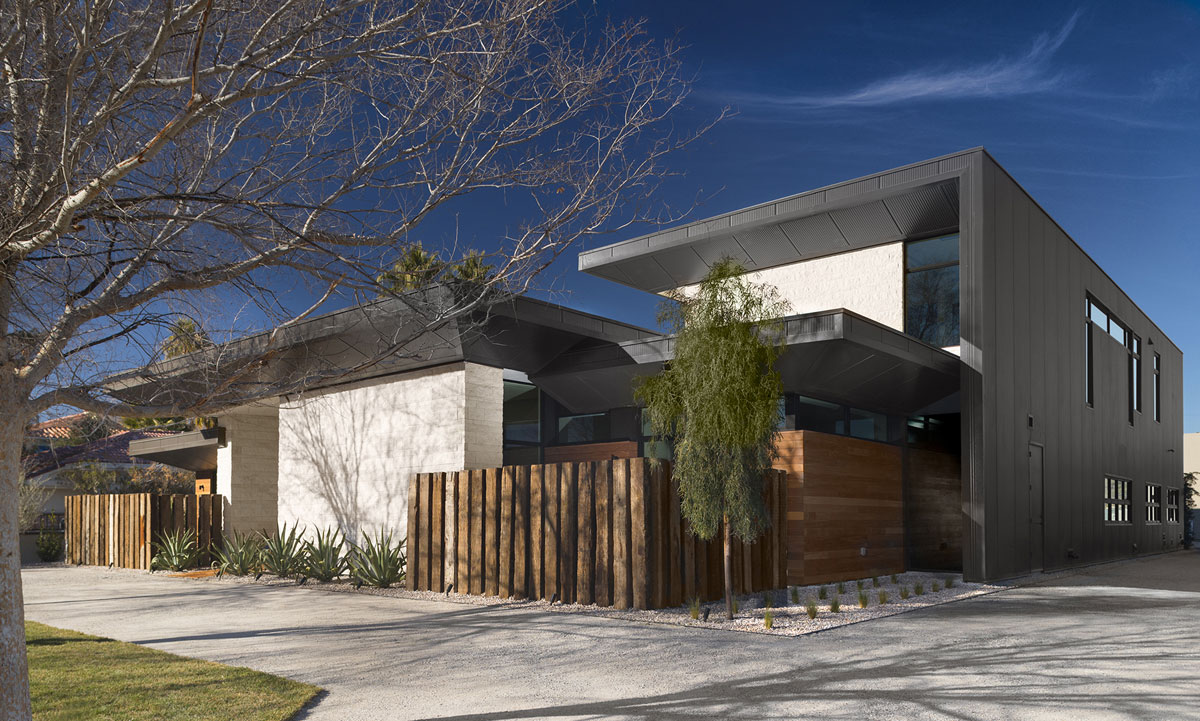 The National Association of Home Builders selects every year an outstanding residence it designates as the New American Remodel, a benchmark home in innovation, technology, and energy efficiency. In 2019, the home at 2720 Pinto Lane. which was designed and renovated by Michael Gardner and Studio G Architecture was featured as the New American Remodel.
The turnkey property, touted as possibly the home of the future, was on sale as an exclusive listing with Luxury Estates International. Because of its classification as a trade event showpiece, the property, which comes with customized furniture, décor, and appliances, was offered for a price far below value. 
The estate sits on a tree-lined street famous for Old Vegas charm and celebrity homes. Its front entrance is discreetly concealed behind full-grown trees and a private security gate. The 24-foot tall home which was built with stone, wood, and metal, combines contemporary West Coast design and rustic, organic elements. The home leveraged its expansive lot in its layout of circular decomposed granite driveway, lush orchard, and herb garden. 
Innovation and Technology
The original structure where the present home is was a single-story ranch home that sat on the address for decades. Its foundation and some brick walls were retained. Innovations in architecture and technology were introduced in the course of the remodel, balancing the property's character. Two staircases and an elevator separate the two levels of the home that feature combinations of indoor and outdoor spaces. The use of pocket doors that disappear into the walls welcomes guests to a swimming pool, outdoor kitchen, and entertainment deck.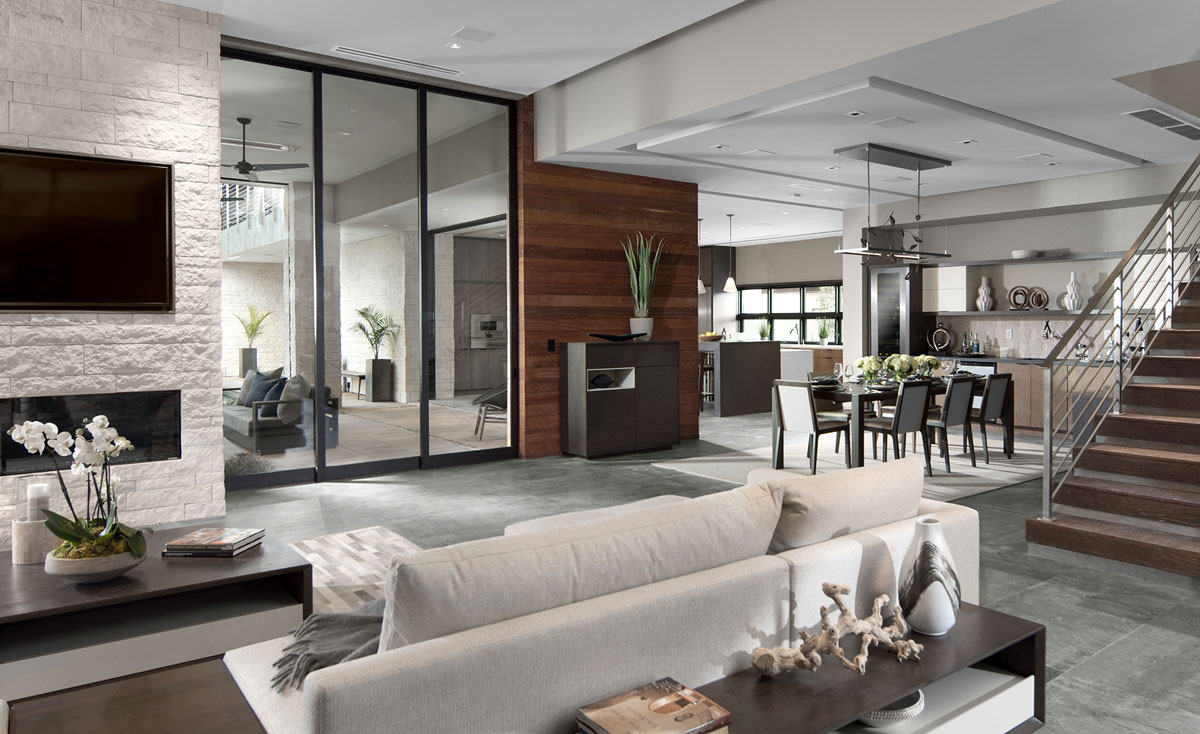 Imported European oak decorates the main indoor kitchen which features Gaggenau appliances, a coffee station, a juice bar, a teppanyaki grill, and an Urban Cultivator herb garden. Cocktails from the wet bar or a bottle from the wine columns in the dining room can complement any dinner. The master's quarters upstairs have a private breakfast kitchen, lounge, and bookshelf wall that opens up to the bedroom. 
Crestron automation controls the electronics, entertainment, and security features of the home. A his-and-hers luxury steam shower consists of eight shower heads and two rain heads where the temperature and pressure are digitally controlled. Outdoor shades use smart technology that can detect rain and activate to protect open spaces even if no one is at home.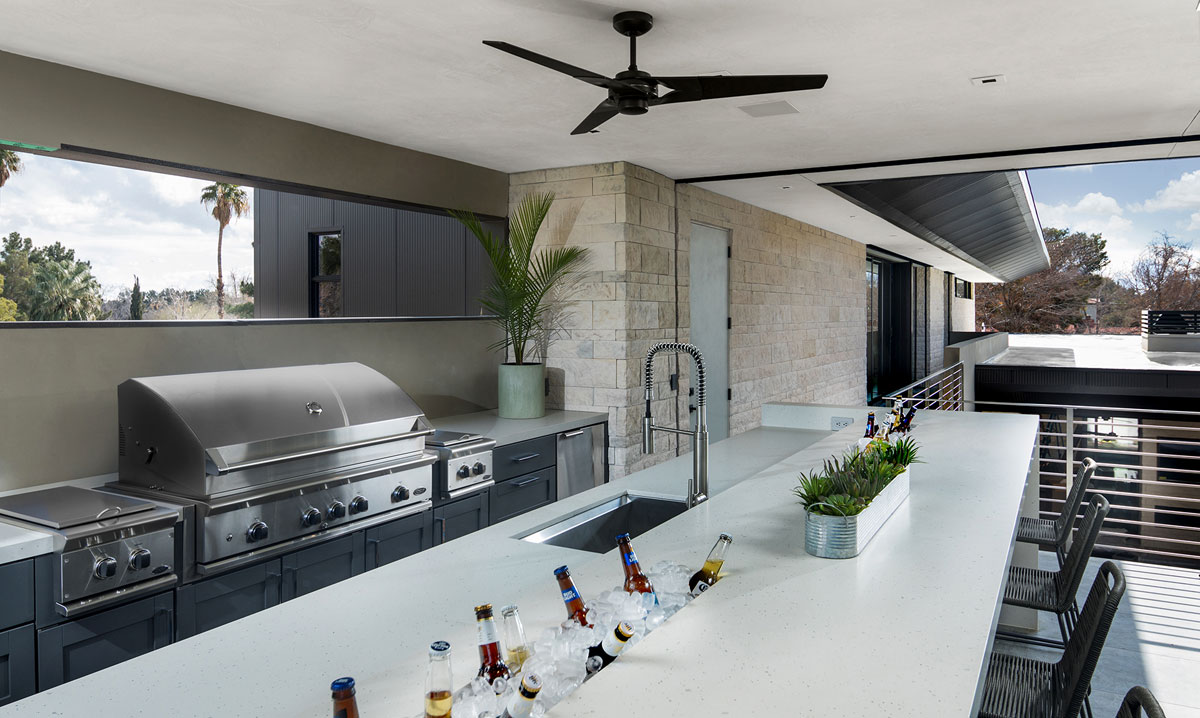 Energy Efficiency
The property, banking on its state-of-the-art insulation and the highest-level thermal-glass windows, is seeking certification for LEED (Leadership in Energy and Environmental Design), the most widely used green building rating system in the world. Each of the four bedrooms and office in the home has its own thermostat control. The air conditioning operates on natural gas. The estate has two backup generators. Water sanitation is another benchmark area for the Pinto Lane, Las Vegas property. Its water is sanitized by a BioMicrobics septic system.         
The estate also features three courtyards, five fireplaces and a spacious three-car garage with electric car chargers, and a detached RV garage that can double as a man cave with its complete modern furnishings. This remodel isn't just a showpiece for the National Association of Home Builders. It is one of Las Vegas' grandest home projects, a fine example of what could set the standard for a benchmark home for the future.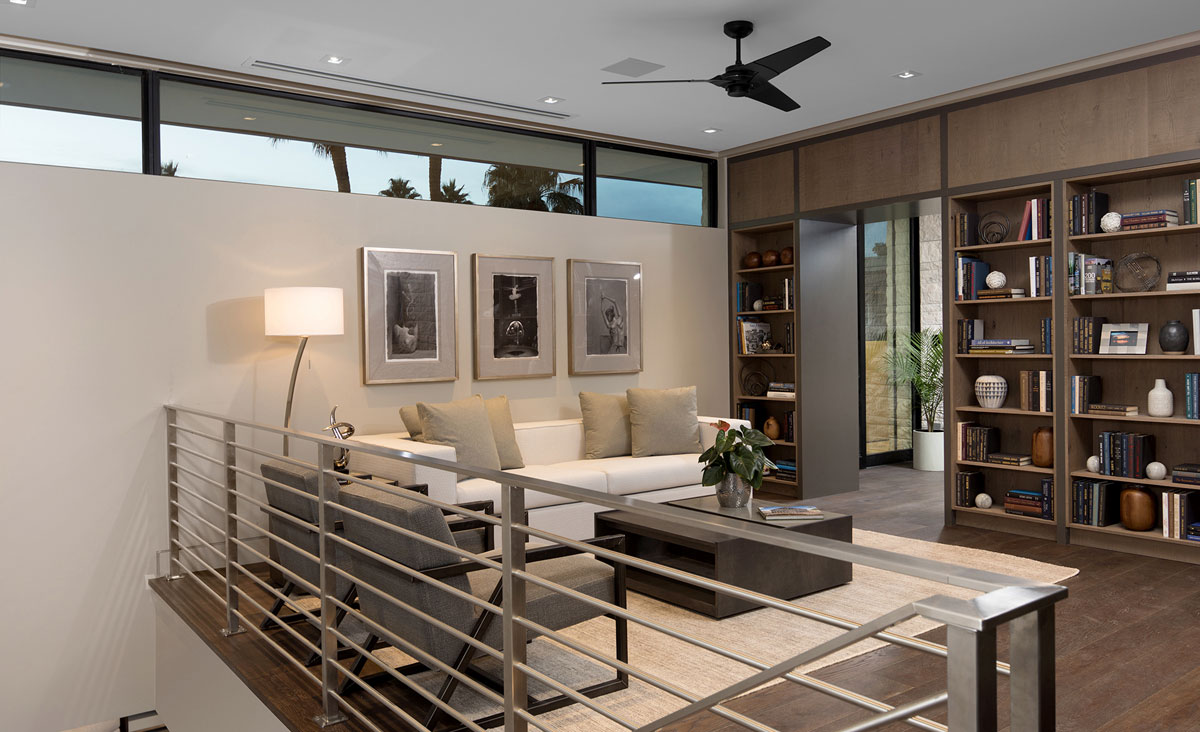 Las Vegas Property Management
As a leading Las Vegas and Henderson property management company, we help clients acquire Las Vegas luxury real property and other dream properties in the United States. Get in touch with our Sales group to check our listings of luxury homes that are for sale or lease for your own use or investment.