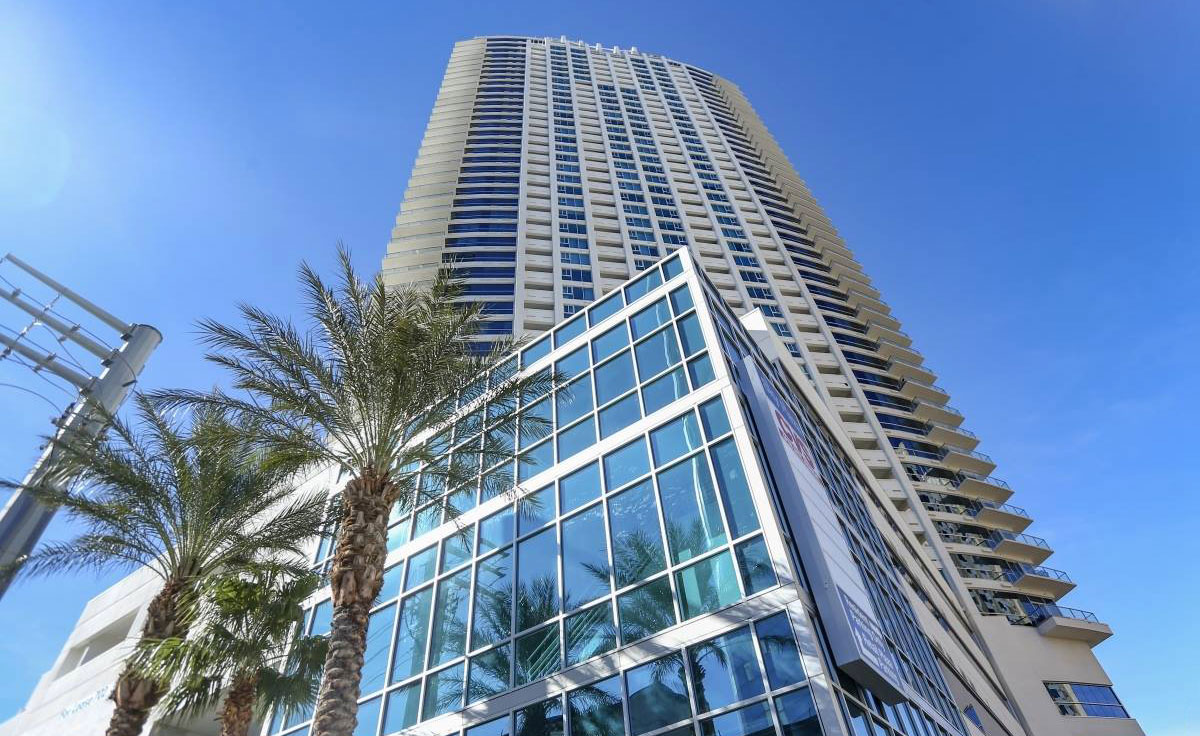 9 June 2022
Sky Las Vegas Luxury Condo Living
There are a lot of good reasons to live in Las Vegas. Beyond the glare of the neon lights on the Strip, are some of the finest neighborhoods in the country, beautiful parks, world-class restaurants, and ample opportunities to enjoy the outdoors. There are guard-gated communities and there's Sky Las Vegas, the first high-rise condo on the Strip.
What it's Like to Live in Sky Las Vegas
Sky Las Vegas is a 500-foot-tall tower that offers a good balance of a cosmopolitan lifestyle and warm comfortable living. It has more than 400 residential units on 45 floors, including penthouses and four-bedroom Skysuites that occupy the tower's top three floors. 
The high-rise condo is situated within the north end of the strip. It is within easy walking distance of popular casino resorts like The Wynn Las Vegas and SLS Las Vegas. Golden Steer Steakhouse and Peppermill Lounge, two restaurants that have become iconic pieces of Las Vegas history are also very close to the Sky Las Vegas. The area is primed for outstanding growth.
Sky Las Vegas is located in an area that was once part of the site of El Rancho Vegas, the largest hotel and casino on the strip when it opened in 1941. The resort made headlines that year when it became the venue for the wedding of Paul Newman and Joanne Woodward. The property burned down in a 1960 conflagration, after which the land was sold to Howard Hughes Corporation. Ownership of the property would change several times over the years. Three acres were eventually devoted to Sky Las Vegas by Nevada Development Partners. Sky Las Vegas officially opened in 2007.           
Condo Amenities of Sky Las Vegas
Residences at the condo feature floor-to-ceiling windows that offer breathtaking views, open floor plans, expansive balconies, and 9.5-foot ceilings that provide plenty of space. The floors use engineered wood and countertops make use of quartzite. Luxurious amenities include Sub-Zero kitchen appliances, Nest thermostats, and other smart-tech upgrades.
The accommodations downstairs are just as opulent and can rival the most exclusive resorts on the Strip. There's a large pool deck, spa, fire pit, and stainless steel barbeque grills. A fully-loaded gym, movie theater, business center, concierge services, and valet parking all help to make everyday living on the Strip much easier. Private cabanas are equipped with televisions and Wi-Fi. These facilities offer the perfect blend of style, comfort, and convenience.
When you head outside, you'll find a putting green for golf practice. There's even a dog walking run you can try.
Investment Prospects
Growth prospects for the Strip are very good. In a few years, properties like Resorts World and Wynn West will open their doors. Las Vegas Convention Center will spawn new business activity as it expands to Las Vegas Boulevard. Fountainebleau property, which has been long neglected, was recently sold. It is being rebranded as The Drew in partnership with Marriott International.
All the indications are pointing to the true investment potential for the north end of the Strip with Sky Las Vegas being in the middle of all the action. All the important elements of luxury and style have come together in one exciting location.  
We are a Las Vegas property management and Henderson property management that can help investors like you to optimize your portfolios and take care of your properties' residents. Sky Las Vegas is one of the most amazing Las Vegas Luxury real estate properties we are excited to offer. Contact us to know how we can help you acquire the property of your dream.