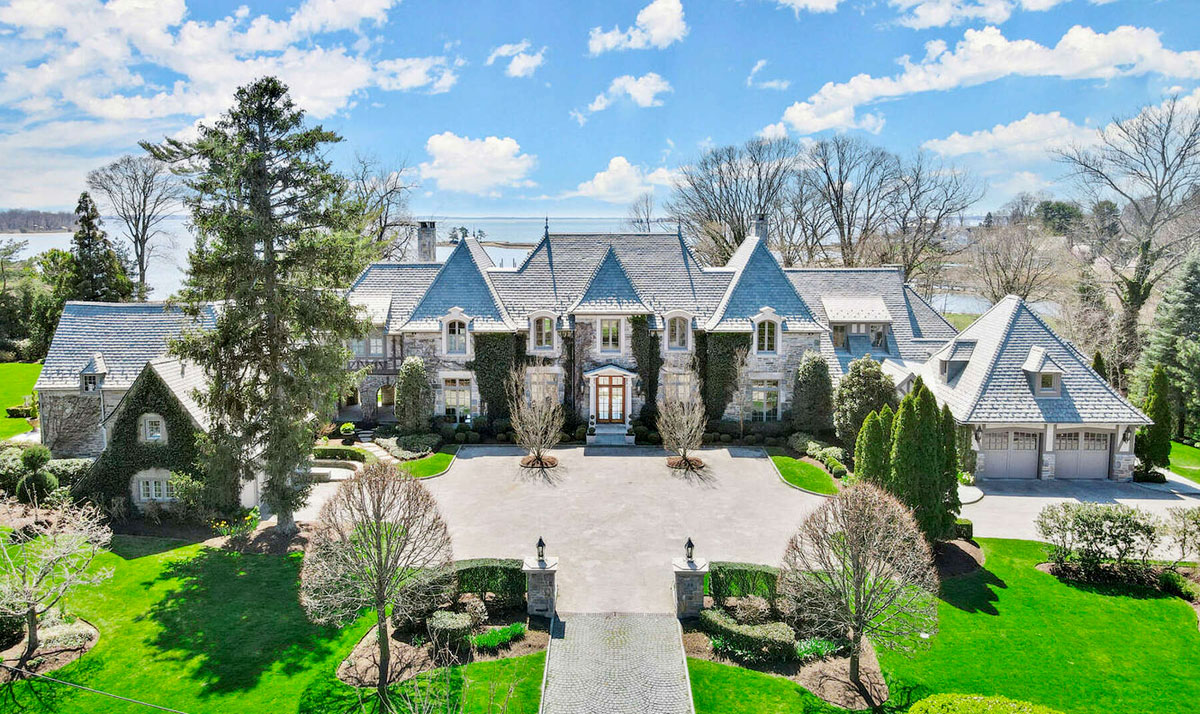 9 June 2022
Showcasing a French Norman-Style Manor in Connecticut
VanderHorn Architects, an award-winning firm in Greenwich, Connecticut boasts of designing homes that are inspired by styles reflecting rich past traditions.  An example of their creative masterpiece is seen at this French Norman-style manor located near the banks of Greenwich Cove in Riverside Connecticut.
Its grand proportions, ivy-draped stone walls, and steep hipped roof lines are common features that characterize a French countryside home. By preserving a historic two-bedroom home that dates back to 1928 as its guest cottage, the estate is in effect, paying homage to history.      
The floor of the foyer consists of timeless handsome black and white tiles. Its 9,006 square-foot interiors showcase classicism at its finest and the strictest attention to detail. Nearly every room allows an unobstructed view of the river. The foyer flows gracefully through to a sunny backyard terrace. 
Exploring the Luxurious Features
The home's expansive floor plan highlights the following luxurious features:
The living room is wood-paneled with a marble fireplace. Its walls have built-in bookshelves and French doors open to the ground.
The lovely formal dining room has hardwood floors, dazzling crystal chandeliers, and classical moldings. It has tall windows that let fresh natural light and views and a butler's pantry with spacious storage. 
The kitchen has plenty of cabinetry, an island with counter seating, an Ilve range, and a roomy breakfast area. 
The family room is a hallmark. It is expansive, with a soaring ceiling, impressive beams and buttresses, built-in cabinets with carved millwork, a wide built-in window seat, and a magnificent stone fireplace. 
The breezy covered patio adjoining the family room can be accessed by opening the French doors. It has a second stone fireplace that is ideal for relaxing outdoors, especially in fall evenings. 
A great room on the opposite side of the home opens to two porches.    
On the second level, four bedrooms are secluded. The primary suite has its own fireplace, a series of walk-in closets, dual baths with tiled floors and elegant inlays, a shower, a freestanding footed soaking tub, and a fireplace. There are three additional generously proportioned bedrooms with stylish baths.
The upper level also houses a playroom while the lower level has an additional family room with a third fireplace. A gym adjoining the family room, a fifth bedroom, a full bathroom, and a theater with a projector and cinema-style seating complete the amenities on the second level.
The 1.77-acre grounds are just as impressive as the home itself. It can be accessed from many rooms and covered and open-air alfresco living spaces. On the swaths of emerald green lawn are terraces, stepping stones, and manicured gardens. The river bank lies at the far end of the ground.
A refreshing swimming pool and spa are on the eastern edge of the property. They're surrounded by a terrace that offers a perfect space for lounging and entertaining. The advanced amenities are a welcome addition to the French Norman-style manor for the convenience of its modern residents. 
Las Vegas Property Management 
We are a Las Vegas and Henderson property management company that can help you acquire Las Vegas luxury real estate and other valuable properties within the United States including the French Norman-inspired mansion featured in this article. Talk to our Sales Team for your real estate and investment needs.