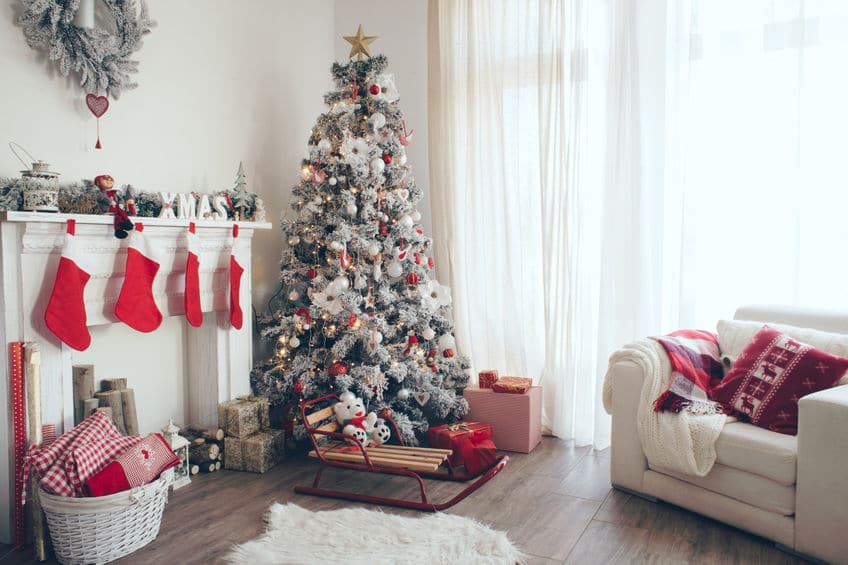 Christmas is only days away. If you haven't yet prepared your home, now is your last chance to think about it. Decorating your home for Christmas doesn't need to be stressful. Nor does it have to be expensive. Here, we've put together the complete guide to help you on your way.
Christmas time is busy enough without having to think of your home.
All that time – and money – spent on presents means you may not have had the time necessary to decorate your home.
Perhaps it's the expense. Many families simply don't have enough to spend on decorations. Presents are barely affordable as it is.
That said, preparing your home for Christmas doesn't need to take much time, or expense. Here's why.
Preparing your Home for Christmas
Before you can put up new decorations, you need to make room.
And that's where de-cluttering comes in. Make space for decorations by clearing up any mess that has accumulated over the past year. Don't forget – Christmas is also a time when you can expect visitors, both family and friends, to come around.
So, there's added incentive to de-clutter your home and give it a good, thorough scrub!
You'll also need to make room for all the gifts you're bound to receive. Don't just focus on shared spaces. Take a few minutes to go through things like your linen cupboard or clothes. Discard any unwanted or damaged items you're unlikely to use again.
Christmas is the #1 time when families buy high-price items – such as sofas and dining tables. Capitalize of the enormous sales that take place and maximize the aesthetic value of your kitchen and living space.
Changing light fixtures can make all the difference to a home. Nor are they expensive either. If you want to drastically improve the aesthetic quality of your home, choose lighting that not only presents well, but also lighting that is adjustable. The right light adjustment for your home can make a tremendous impact. And with the addition of Christmas decorations, the ambiance of your home has just gone up another level!
Preparing your home for Christmas wouldn't be complete without a unified color theme. There's no need to buy new decorations each year. Instead, review the color scheme of the decorations you already have. Instead of putting up conflicting colors – such as gold and green and red – think about choosing just one color theme that compliments each other.
For example – it is now not uncommon to have a gray Christmas tree and shades of gray/black/white as decorations. In this way, your living space takes on a consistent color theme that, with the optimum lighting, can transform your home for Christmas; adding that wow-factor that we all hope to achieve.
In this way, you only need to buy a few new items – adding to your existing collection. It saves unnecessary expense whilst adding an amazing aesthetic dimension to your home at Christmas.
Go that extra mile this Christmas with some added novelty. You can now buy some great, inexpensive glassware with all the festive fun you expect – sparking cocktail glasses and glimmering ice-buckets to name a few. When it comes to evening entertainment, these added bonuses can lift the festive atmosphere to a whole new level.
Christmas is also about being cosy. Think about buying inexpensive candles and, if you have a fireplace, to get the log fire going. Again, it's all about creating the ambiance and atmosphere of Christmas without the need of taking out a mortgage. Think about adding festive cushions to your sofa, too, for added effect.
Happy Christmas from Triumph!
Preparing your home for Christmas doesn't need to be expensive. Nor does it need to be time consuming. By implementing these simple tips and tricks, you can transform your home for Christmas without breaking the bank.
We, at Triumph Property Management, would like to wish you and your families a very happy Christmas and prosperous New Year. We hope that you continue to come back to our real estate blog soon for even more great tips and tricks on how to improve your home without needless expense.