17 September 2022
Three Homes with Enduring Mid-Century Modern Style
Mid-century modern style architecture, a twentieth-century architectural style is considered one of history's most enduring architectural styles. It is characterized by clean lines, open floor plans, gentle organic forms and materials, large windows, interior design based on functionality, and open floor plans intent on making indoor and outdoor living spaces complement each other. Mid-Century modern homes are futuristic in looks yet aren't a total departure from the past. 
We feature three fine examples of homes with timeless Mid-Century modern architectural styles.
4-Bedroom Tarzana Treasure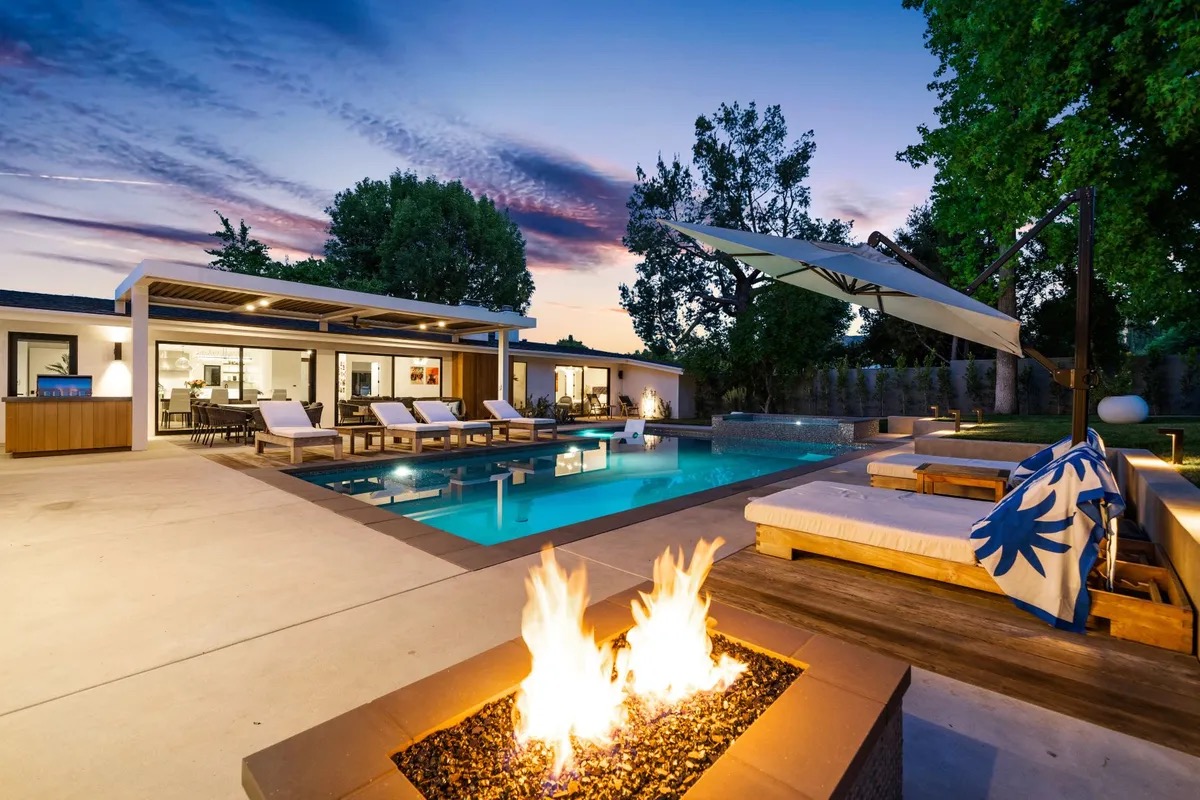 Tarzana, Los Angeles, California
This Mid-Century modern home is located in Tarzana, a suburban neighborhood in the San Fernando Valley region of Los Angeles, California. The essential elements of Mid-Century design dominate the architectural style of the home such as a custom four-foot wide entry door and ash-clad Tesla charging station.
Other important features include Fleetwood windows and doors, a patio with a motorized louvered cover, a pool and a spa with a Baja ledge, and a wellness cabana with a steam room, a Nordic sauna, and a snow room. There is also a well-equipped cook's kitchen, a fire pit with built-in benches, a covered outdoor kitchen, and an alfresco grilling area.  
Karl Kamrath 5-Bedroom Houston Home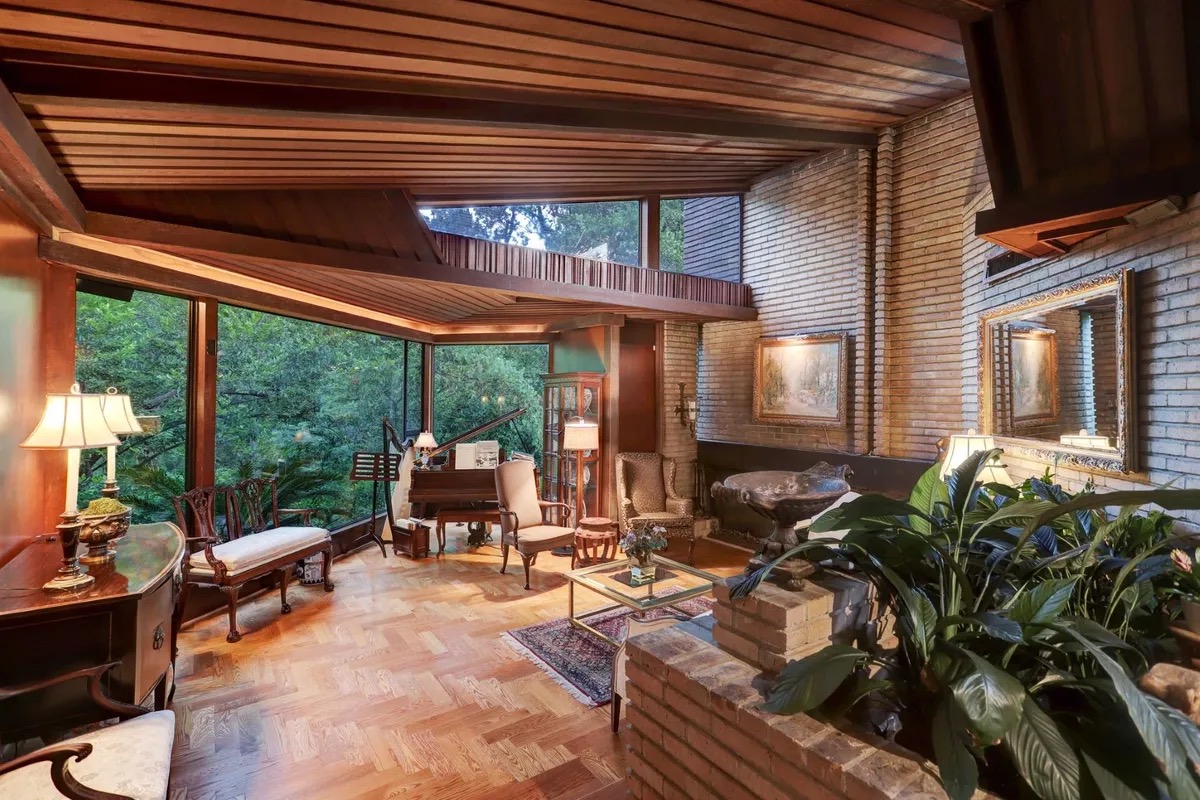 Houston, Texas
Karl Kamrath, a protégé of Frank Lloyd Wright and a celebrated architect in his own right, constructed this sophisticated Mid-Century modern residence as his own five-bedroom home. The home was erected on a secluded hillside above a lush wooded ravine.
The character of a Mid-Century modern home is displayed in nearly every space of the 4,691-square-foot floor plan. The design shows dedication to warm, eye-catching wood surfaces, stained-glass, period brickwork, clerestories, and oversized windows and sliding glass doors that try to project a seamless transition between indoors and outdoors.
Multiple patios around the residence were designed for the enjoyment of the surrounding gardens.
3-Bedroom Montecito Ranch Home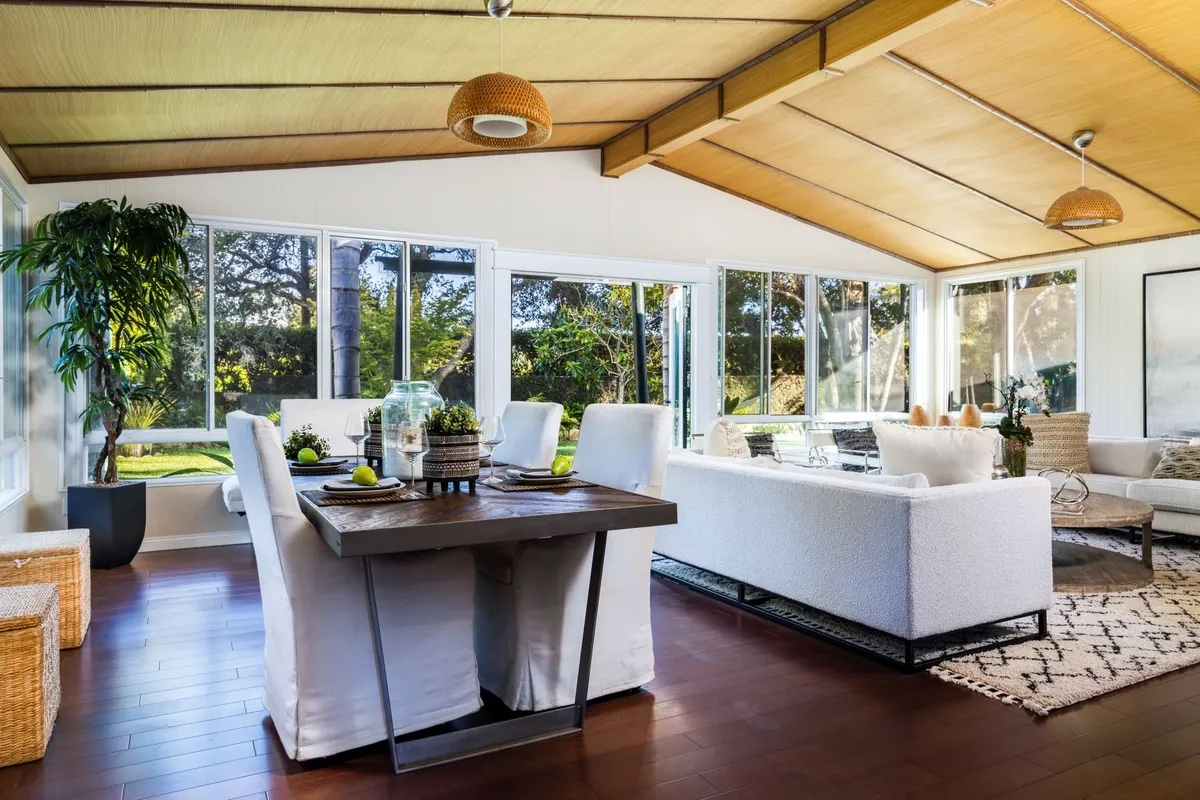 Montecito, Santa Barbara, California  
The ideal location of this three-bedroom Mid-Century-inspired home is its biggest advantage. Montecito is located on the Central Coast of California and sits between the Santa Ynez Mountains and the Pacific Ocean. It is home to some of the area's most stunning stretches of coastline.
The home enjoys an enviable location in the foothills of Montecito offering a rare blend of privacy, serenity, and proximity to hiking trails, beaches, parks, restaurants, shops, and golf courses. The central part of the home is an expansive living area and a fully-equipped kitchen, from which the three-bedroom suites flow. Nearly every room opens to the idyllic grounds and gardens and the inviting outdoor entertaining areas.
---
As the leading Las Vegas luxury real estate company, we can help you acquire or rent Mid-Century modern homes such as the properties we featured in this article and homes with other architectural styles. You can also assign us as your Las Vegas property management and Henderson property management partners.