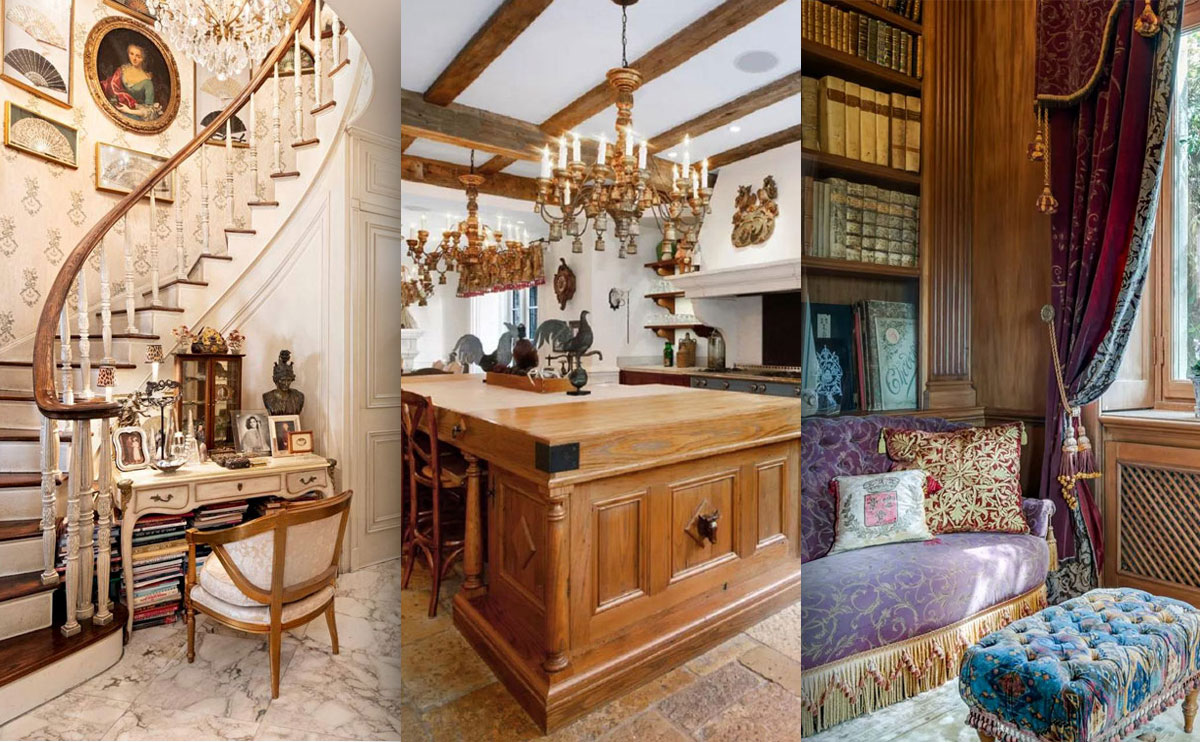 23 July 2022
Design Ideas for Homes Befitting Royalty
In a monarchy, the palace is the official residence of a monarch who reigns over a kingdom or empire. It is exceptionally lavish built to show off wealth and to be a royal home. It has many grandiose rooms, priceless artwork, and beautiful gardens.
Your place, when adorned with the right décor, can well be your royal abode a magnificent retreat with dignity or splendor of quality and character that lets you feel regal. Certain design elements can make a property fit for a monarch. Here's a selection of five high-end stately homes befitting royalty you could get inspiration from, to help you envision your own palace.
19th Century Paris Mansion
Rue du Faubourg Saint-Honoré, Paris, France
This private 19th-century Paris apartment mansion is located in one of the most luxurious and fashionable streets in the world, Rue du Faubourg Saint-Honoré. Within the narrow street are Élysée Palace, the official residence of the President of France, embassies, virtually every major global fashion house, and numerous art galleries.
The mansion features a host of premium furnishings such as wallpaper with botanical motifs, a plush salon, and a lush courtyard. Architectural magnificence is evident in the home's four-meter ceilings, polished checkered floors, and rich exotic touches, a signature of the classic royal style.
Majestic Chicago Home
Downtown Chicago, Illinois
This exquisite Chicago property evokes a strikingly similar royal impression of the Sandringham House, a country house in Norfolk, England, which is one of the royal residences of Queen Elizabeth II. Highlights of the impeccable home include parlors rich in antique accents, foyers fitted with coffered ceilings, and a wood-paneled kitchen, its most striking features.
The remarkably exposed beams and the full La Cornue range give you a hint of what's inside the functional quarters of one of UK's great historic estates.     
Gorgeous Italian Villa
Lake Varese, Italy
Some of the defining characteristics of traditional palaces are dramatic drapery woven from smooth fabrics with smooth textures such as velvet, satin, and lace. They are rich in colors like deep jewel tones that befit a majesty's sanctuary. Such trends are exhibited in this majestic villa overlooking the Italian Alps and Lake Varese.
The preserved authentic paintings, tapestries, mantels, paneling, and mirrors from distinguished residences that adorn the home make the property very much like a museum. The primary suite is decorated with pieces from a 17th-century French castle. The Napoleonic Room got its artwork stucco and boiserie from a notable Parisian Manor. The Monumental Library and Tea Room are from an 18th-century English villa.  
French Renaissance-Style New York Townhouse
Upper East Side, Manhattan, New York, New York
One of the hallmarks of historic royalty on display at this Manhattan townhouse is rich dense colors, pristine and white spaces with gold accents. Chandeliers and antique lighting fixtures further brighten the space and salon-style hanging arts that augment the relative minimalism of the place.
The grand foyer and a staircase that also doubles as a picture gallery are among the main attractions of this Renaissance-style home. Many portraits and heirlooms that go back generations to monarchial lineages were collected and perfectly captured in this relic of the Gilded Age on New York's Upper East Side.   
Opulent Beverly Hills Mansion
Beverly Hills, Los Angeles, California
Palaces, castles, and historic estates are all known for their elegant interior design and green spaces including manicured gardens, scrupulously maintained hedge sculptures, and private woodlands. Many homes in Beverly Hills have features of a royal landscape. However, few can compare with this mansion.
Nearly 10 acres, the property has vast sports courts, an amazing children's maze, and well-maintained walking trails. The view of this gated residence from the outside is a perfect image of a ruler's court. The home has a pool pavilion that was designed as a luxury retreat for two and a striking coral-colored guesthouse.
Original luxury icons that decorate the home reveal the regality of the place. To this day, their residences continue to inspire first-class design and décor.
As a Las Vegas Property Management and Henderson Property Management company, we are constantly on the lookout for Las Vegas luxury real estate and other opulent properties in other states to offer you for sale or lease. Browse our portfolio of high-end homes that are fit for royalty. Contact us so we can help you acquire one that can be your own palace.