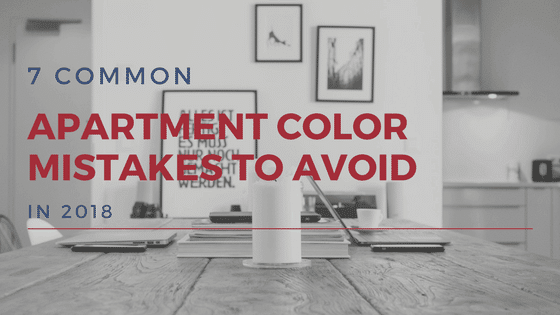 It can be a challenge to design your apartment in a way that blends style and function. There are so many colors to choose from that deciding on a color scheme can seem like an overwhelming task.
So how can you be sure you're picking the right colors to fit your design style?
Whether you're adding a few new pieces or completely redesigning your place, we've got some tips and tricks to make life easier. Check out these 7 common apartment color mistakes to avoid in 2018.
1. Don't Forget the 60-30-10 Rule
If you can remember the 60-30-10 rule, you'll be one step ahead of most interior decorators. The 60-30-10 rule is an easy one to follow, and it's a great way to create and maintain an interesting color palette.
Here's the rule: 60% of each room should be your primary color. 30% of the room should be your secondary color. The remaining 10% of the room should be your accent color.
Now don't worry about the math—you don't need to measure square footage and calculate percentages. It's more about what you see with your eye.
A combination of three colors will create visual interest in any room. For example, your primary color could be a neutral, such as ivory, grey, or brown.
Your secondary color could be a shade of pale blue. And your third color could be a green, yellow, or red hue—something to pop the space and add some personality.
2. Don't Ignore Your Lighting
Whether you're adding a new color or choosing an entirely new palette, consider how it will look in both natural and artificial light. This is where paint swatches and paint samples become your best friend.
Take a trip to your local decor store and pick up as many of those little color cards as your heart desires.
If you have a solid idea of the color you want, buy a small sample can of paint. Paint one small area of one wall or hang multiple swatch cards side by side on a wall for a few days to see what you like best.
This rule doesn't just apply to paint. It's a rule to follow for every new element of color that will be prominent in your space. If you buy a new bedspread, leave it in the package for a day or two to make sure it looks as good in your bedroom as it did in the store or online.
If you're about to purchase a new couch, see if you can order a sample swatch of the fabric before you buy. Many stores even offer free swatches and samples in order to eliminate potential customer returns.
3. Don't Rely on Color Trends
Just because it's the Pantone color of the year (yes ultra violet, we're talking about you) doesn't mean you need to incorporate it into your color scheme.
Forget the trends of the moment and opt for colors that you'll love for years to come. Pantone color trends can certainly be used as a source of inspiration. But sometimes they're better as accents than primary or secondary color choices.
The notion of ignoring the trends holds true for furniture as well. Sure, it may seem like everyone is decorating with a rustic or a mid-century modern vibe. However, don't feel guilty if you have more of a traditional style. Make sure that what you're putting in your apartment speaks to your own sense of style.
4. Don't Overemphasize Matching
It's important to have a color palette in mind. However, that doesn't mean everything needs to be in those colors.
Your walls, furniture, and accent pieces don't have to all be a part of your initial three color plan. Stick to the 60-30-10 rule but feel free to incorporate a few additional pops of color here and there.
You'll add visual interest to a room by adding some elements that have nothing to do with color at all. Wood finishes and metal fixtures are a great way to add texture and style.
If you want to add a fourth color to the mix, consider one that's a version of a shade already in your palette. For example, in an ivory/light blue/yellow palette, consider adding a dark blue.
5. Don't Play It Too Safe
If you've wanted a blue velvet couch your entire life, get one! If you've been dreaming of some crazy patterned rug for your bedroom, buy it! It's the unique accents and distinctive pieces that will give your apartment personality.
Imagine walking into a room with a beige wall, a brown couch, and a light wood table—BORING!
Don't pick colors because they seem safe. Choose colors you like and colors that reflect your personal style. If you love orange, go for it. If you're partial to yellow, use it. Just remember that some colors are better for accent pillows and decorative items than for paint on every wall.
6. Be Wary of Bright Colors
When it comes to decorating your apartment, you want to showcase your unique style. But there are some colors that can be jarring to look at for an extended period of time.
Bright oranges, yellows, purples, and reds can be harsh on the eyes. With too many bright elements in a room, you can make a space feel overwhelming. Brights also have a tendency to make a room look and feel smaller than it actually is.
7. Don't Forget the Color of the Floor
If you're renting an apartment, there isn't much you can do about the flooring. Whether you have sleek hardwood floors or neutral carpeting, keep the color in mind when you're decorating.
That white coffee table you love so much might not look so great against your beige rug. That dark brown couch you want may look blah with your dark hardwood floors. Different shades of flooring can have an impact on how colors look in a room.
Choosing the perfect color palette for your apartment isn't rocket science, but it can be tricky. Stick to the 60-30-10 rule, pay attention to lighting, and don't get caught up in fleeting trends.
Choose the colors you want and don't play it too safe. Be wary of bright colors and always consider the color of your floor. If you can avoid these 7 common mistakes, you're sure to be able to create an inviting space that's perfect for you.
Author Bio:
Chestnut Portland is a quiet community of one, two and three bedroom townhomes in Portland and Scarborough, Maine. Chestnut Portland is perfect for anyone looking for easy access to town, as well as a little fresh air and breathing room.
Check back to our Las Vegas property management blog for even more great tips and tricks on how you can improve your home!