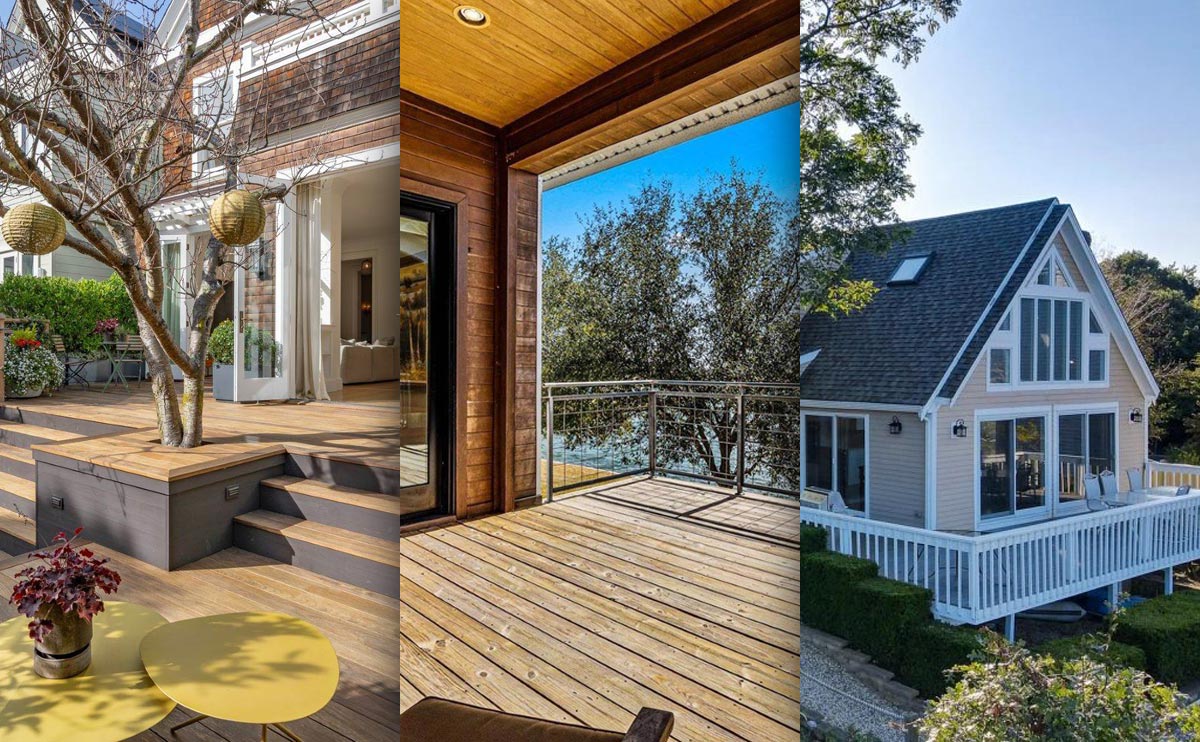 One of the most exciting features of a luxury home is the deck. It is a place to host parties and get-togethers, relax, or play games. Your home's deck is a smart way to better utilize your yard space. There, you can enjoy the warm weather and fresh air with your family and guests. One of the best home improvements you can make, decks can upgrade the look of any property and drive up your home's value.  
Let's look at five luxury estates in different states where decks play a major role in defining the homes' beauty and worth.
Property: Pacific Heights
Location: San Francisco, California
A sought-after property in the Pacific Heights, the four-level home features classic design details. It has been updated for a more modern look. The home's highlights include six bedrooms one of them being a lower level suite with a kitchenette, two family rooms, an elevator, a photography and art room, and a two-car garage. Among its many outdoor spaces is its imposing backyard garden deck where a shade tree and other decorative color plants flourish.
Property: Idyllic Texas Ranch
Location: Midfield, Texas
You can experience luxurious living while having peaceful solitude in this 257-acre ranch located less than 90 minutes from bustling Houston. Lots of outdoor nature activities such as bird and wildlife watching await you. The property consists of an elaborate main residence, guest suites connected by a breezeway, a cabin, and a bunkhouse. Cattle pens, a 5-acre crystal clear lake, pastureland that's perfect for grazing, and duck ponds complete the natural features of the ranch. The home has numerous spaces both covered and open-air alfresco, which were all designed to suit the taste of outdoor-loving residents.
Property: Contemporary Calistoga Residence
Location: Calistoga, California
Set against a backdrop of California wine country's natural beauty, this sleek contemporary residence is just minutes away from restaurants, wineries, spas, and shops. The interiors have been designed to be open and airy to let people appreciate the views of the Mayacamas Mountains, green trees, and the home's lovely pool. There are alfresco areas that open from the bedrooms. They connect to the outdoor kitchen and tennis court. The attractive deck extends to the adjoining terrace that houses the pool.
Property: Palm Beach Mediterranean Home
Location: Palm Beach, Florida
Walking distance from restaurants and shops on Worth Avenue as well as the beach, this five-bedroom 1920s villa-type home with two-bedroom guest cottages exudes Mediterranean charm. Its design features include pecky cypress wood ceilings, elegant French doors, graceful archways, and naturally beautiful wood floors.  The home has both covered porches and open decks and balconies to allow for an unobstructed view of the outdoors and surroundings.
Property: Massachusetts Waterfront Home
Location: North Falmouth, Massachusetts
Picturesque views of boats in the harbor are the main attraction for this enchanting 3,500-square-foot waterfront home that is part of a 1.25-acre property. The home features a host of enticing features which include five large bedrooms including two primary suites, a living room with skylight roofing, two recreation rooms, a stone fireplace, a kitchen consisting of stainless-steel appliances, an island, and a dining area. Sliding glass doors open to an amazing wraparound deck. The property includes a private dock and deeded rights to two association beaches.
We are the top luxury real estate agents in Las Vegas that can help you acquire any of these properties and other real estates. We deal not only with luxury real estate in Las Vegas but all over the United States.  You can also assign us as your property management Las Vegas-based company to take care of all your real estate maintenance and management concerns.