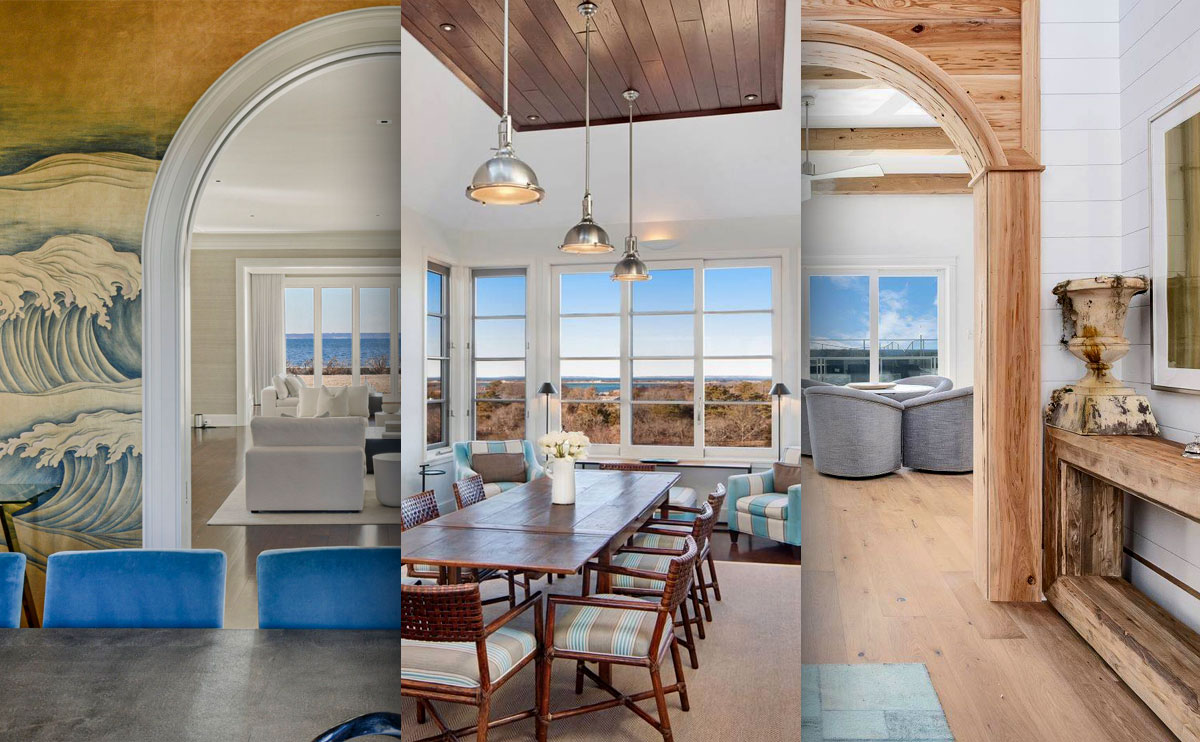 21 May 2022
5 Luxury Homes with Nautical Charm
How wonderful it will be if we can own a beach house or a holiday house overlooking the sea. While this idea may remain just a dream for many, we can bring a little nautical charm to our homes, wherever they are located. Your home need not be in a beach area literally for you to enjoy coastal living. You can create seaside inspiration to any space and feel the fragrance of the sea breeze at home through design.
Here are five examples of how the application of different design elements – colors, furniture and materials, fabric and textures, accessories and accents, and architecture – has transformed homes into gorgeous sea-inspired getaway places.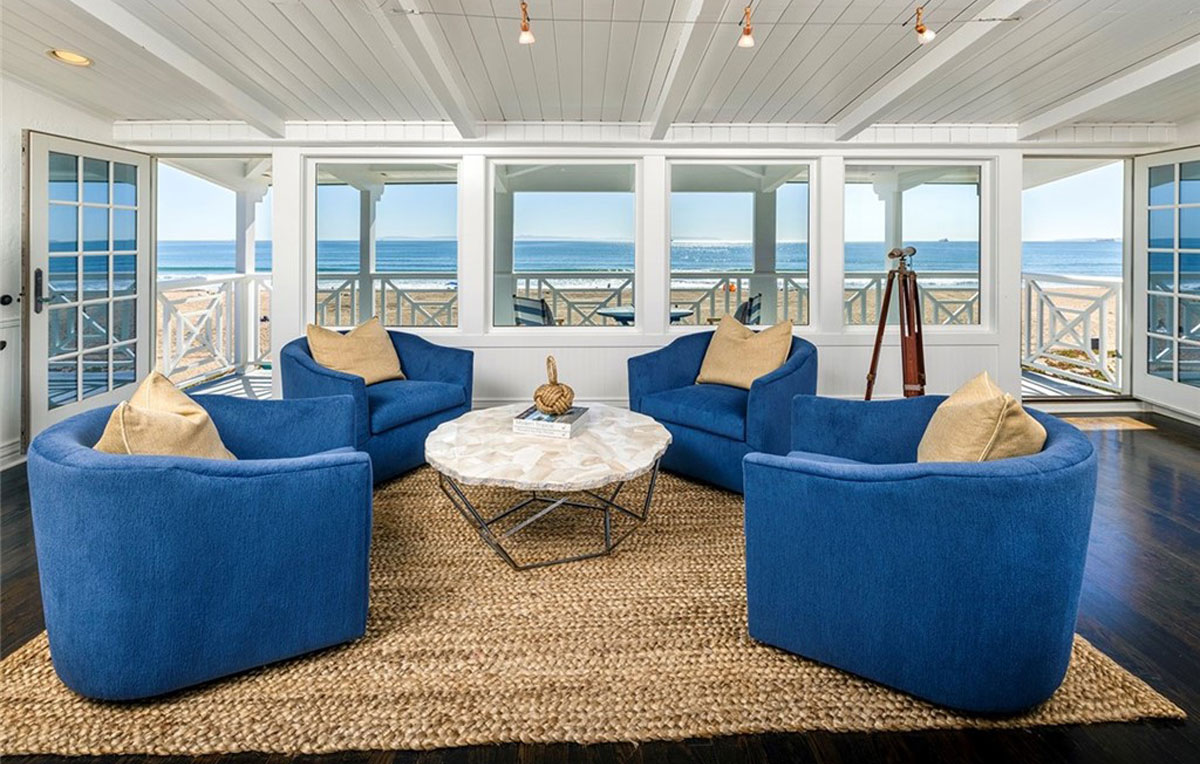 Hues of Blue and Other Pale Palette
The color blue represents both the sea and the sky and is associated with open spaces. It is the obvious choice when choosing a major color. Nautical-themed spaces tend to use a relatively pale palette that includes lighter shades of blue, green, white, and soft tan earth tones. These colors are reminiscent of water, sand, wood, and stones. Pale pinks and other colors that could be seen glistening on a coral reef beneath the water may be used to enliven the space.
When opting for a bolder, strong, and bright color, blue is again a logical choice that signifies the ocean. This can be seen in this luxury California beach house. The fully furnished home has all the key features of the coastal style in its seven bedrooms, seven bathrooms, rooftop terrace, and oceanfront veranda.

Natural Shoreside Materials
Decorating your home with feature pieces or furniture using natural materials found along the shores such as rattan, wicker, and reclaimed wood can enhance the nautical ambiance of the place. Other original materials such as rope, bamboo, and glass can also add to the look and feel of a space. Weathered surfaces and sinuous lines may suggest a worn condition from exposure to the wind, weather, or waves.
This private property is a four-level boutique home located on the border between Florida's Inlet Beach and Camp Helen State Park. It exhibits statement pieces that characterize the beauty of living by the sea. The sun-soaked, sand-swept natural coastal design is complemented by the display on the floor surfaces and double-height ceilings.

Breton Stripes and Bohemian Prints
A good nautical impression may be created through lined patterns in fabric and upholstery. Chunky-knit beach blankets consisting of broad bands or the iconic Breton stripe of the French Navy under Napoleon are two designs that provide the coastal aesthetics of thickly-woven textures and natural fibers. The use of more bohemian prints adds sophistication to otherwise plain spaces.       
This luxurious up-island estate in Massachusetts uses textiles to depict the spirit of coastal living. Ideally situated on a scenic hilltop with breathtaking views of Squibnocket Beach and the Vineyard Sound, this home has the welcoming atmosphere of a rustic cottage and the elegance of a large mansion. It has four bedrooms, a two-bedroom private guest house, five-star amenities, and an expansive lap pool.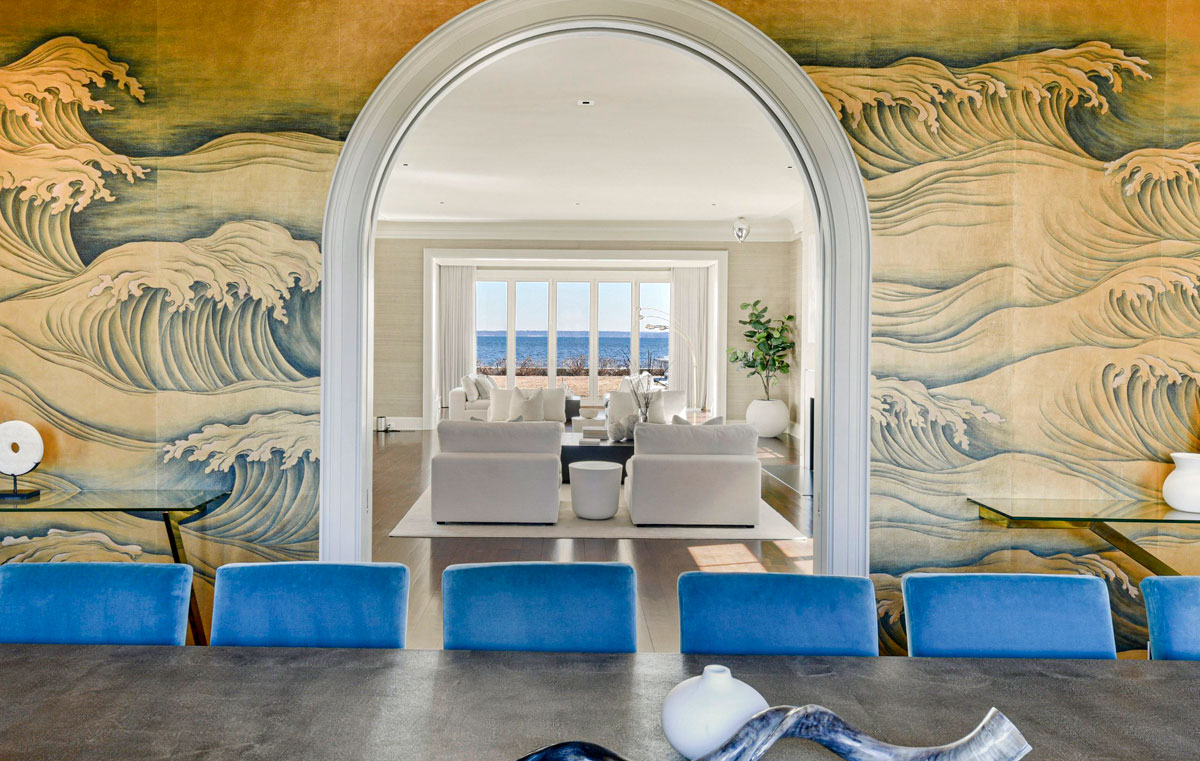 Ocean-Inspired Art
The nautical spirit can be portrayed through objects, accessories, and accents. Blown glass featuring curves and sheen can signify water. There are a lot of other statement pieces with maritime vibes that can do the job as effectively including ocean-inspired art, wallpaper, or framed vintage maps. Water plants and flowers also make attractive decorations.
Ocean-inspired interior design makes the dining room in this luxury mansion a great example of how you can embrace the maritime spirit. The six-bedroom mansion may be mistaken for the Hamptons, known for its rural setting and amenities, but it's actually located in the Premium Point enclave of New York.       
Architectural Elements
Certain architectural elements can enhance the aesthetics of homes converted to a seaside retreat more than others. Examples of these are cathedral ceilings, thatched roofing for outdoor structures, exposed beams, and round windows. And even if these details are not present, any space with large windows and plenty of natural light can be transformed into a classic nautical look.
This impressive Curtis Point property features cathedral ceilings and other architectural details such as cupola roofs and the lovely weathervane that lend themselves well to the nautical style. The home has an oceanside pool and a lift that lowers the boat to and from the adjacent canal, which makes seaside living even more pleasurable.
You can create your own nautical escape in your home by adopting coastal aesthetics. Implementing nautical decor in your home shouldn't always mean anchors and sea creatures. By adding natural colors and elements to your decor, using large, bold stripes, ocean-inspired art, and the right architectural elements, you can transform your space into a soothing space of relaxation and calmness while giving you a sense of being on vacation.    
We are into Las Vegas Property Management and Henderson Property Management specializing in the sale of unique Las Vegas luxury real estate and other premier properties within the United States. We can help you own the home of your dream such as those featured in this article. Contact us now